U-TRED Non-Slip Open-Grating Cleats
First developed in Australia and marketed internationally as the U-TRED, these anti-slip knock-on cleats instantly add grip to industrial bar grating steps and walkways.  This non-slip system is shipped to all US, Canadian and Caricom locations direct from Titan Safety.  With expedited shipping out of Illinois and fast installation, your grate flooring or stairs can be upgraded from slippery to slip-resistant within days.
The U-Tred is the perfect safety partner for open bar-grating access ramps, stair treads, grated mezzanine floors and walkways.  These 'U' treads add instant grip to rapidly improve slip resistance whilst allowing drainage on grating prone to oil, dust, small debris and water contamination.  With metal and composite  GRP/Resin options, these clip-on U tread grips cover all the main industries where open-grid floor gratings are installed; oil, chemical, fertiliser plants, mining, marine, factories and mills etc.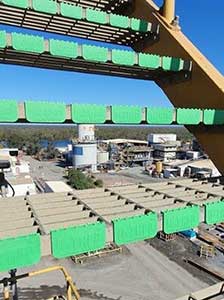 U-Tred is a registered Trade Mark of Amco. Patents applied for and patents granted include:
Patent No 2012202911
US Design App 29/435312
US Design Patent USD782, 293 S
Canada Design No 148172
Australian Design 12140/2012